Unum and 5 Strong Close the Racial Wealth Gap Together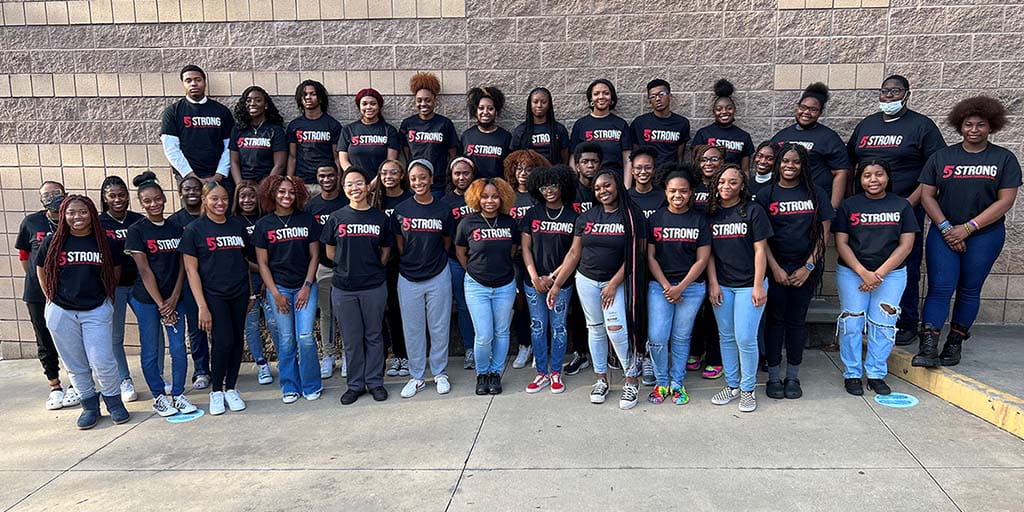 Caleb attended a collegiate high school in Atlanta. He was president of the student council and active in school activities. His grades weren't bad either; a 3.0 GPA and a 19 on his ACT exam would get him into his choice of colleges.
He had dreams of being the first person in his family to attend college, but as a young man raised by a single parent and living in the inner city, Caleb was concerned about college tuition and other expenses. Paying for post-secondary education would be a challenge for his family. And while his grades and test scores were good, they weren't as competitive to qualify for scholarships. He didn't think college was in the cards for him.
Then Caleb learned about the 5 Strong Scholarship Foundation.
For almost two years, 5 Strong Founder/CEO Andrew Ragland and Unum have partnered to fill the financial gap for Black students who seek to attend and graduate from college without major debt.
As part of Unum's commitment to create an equitable culture for potential students and the communities where they live, the organization awarded 5 Strong with two Unum Social Justice grants. The grants and 5 Strong's commitment are helping over 200 young adults attend college, mainly Historically Black Colleges and Universities (HBCUs).
"Far too many children head to college only to return home in a year because they lack funding, family support or both," said Ragland, a former high school educator and inner-city schools' counselor. His career spanned over 25 years.
"I wanted to do something about that," he continued. "I started 5 Strong to help 'academic middle' Black students get the funding and support to be successful in college and graduate. For us to help close the racial wealth gap and increase the Black student college graduation rate, there must be collaboration."
Ragland wouldn't be able to fill in the financial gaps for students like Caleb if he didn't partner with organizations like Unum. "To secure funding, I apply for grants. I receive so many no's that when a Unum representative reached out to me, I was both surprised and ecstatic. She walked me through the application process for the social justice grant, which is a better fit for my program."
And the rest is history.
That history now has 14 HBCU partnerships, boasting an 84% student retention rate and a 75% graduation rate, with students graduating in about 5 years according to Ragland. This is well above the national average as the National Center for Education Statistics notes the overall 6-year graduation rate is 63% at public colleges and universities.
For Caleb, the scholarship gave him a financial head start and a trajectory to graduate school. After graduating from Alabama State University with a degree in special education, he earned a full scholarship to complete his master's degree in education at Johns Hopkins University. While teaching in Washington, D.C. he hasn't forgotten about the organization that first poured into him. He always gives back by hosting other 5 Strong scholars.
Ragland said, "Caleb is a great example of the 5 Strong mission."
---
** Photos used with the expressed written permission of 5 Strong
---
Share on social media:
About Unum Group
Unum Group (NYSE: UNM), an international provider of workplace benefits and services, has been helping workers and their families for 175 years. Through its Unum and Colonial Life brands, the company offers disability, life, accident, critical illness, dental, vision and stop-loss insurance; leave and absence management support and behavioral health services. In 2022, Unum reported revenues of about $12 billion and paid $8 billion in benefits. The Fortune 500 company is one of the 2023 World's Most Ethical Companies, recognized by Ethisphere®.
Visit the Unum Group newsroom for more information, and connect with us on LinkedIn, Facebook, and Instagram.