When Kelly Quinn, client manager for Unum, woke up one summer morning with a headache, she did not think anything of it. With a full slate of things to do, the persistent throbbing sensation put a halt to her day. Little did Quinn know that she was experiencing her first warning sign of a stroke.
And she was only 29.
Her symptoms intensified after awaking from a nap; she was confused and intense pain ran from the back of her head into the entire left side of her body, causing her to go completely numb. She could not get out of bed so an ambulance was called. Quinn was rushed to the hospital not knowing if she was going to make it back home.
May is National Stroke Awareness Month and according to the American Heart Association,
stroke is the fourth leading cause of death in women
. Women are
44% more likely
than men to have a stroke before the age of 35. The Centers for Disease Control states that the older a person is, the more likely they are to have a stroke. It's also a
leading cause of serious long-term disability
.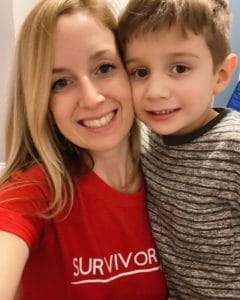 Kelly Quinn and her son
Looking back, Quinn said, "Never in a million years did I think it could happen to me at such a young age. Especially because I was active, healthy, and had no underlying risk factors. I never thought I was at risk of having a stroke."
Quinn survived and re-gained mobility in her limbs on the left side of her body and returned to work two weeks later.
The mother of one has peripheral vision loss while all other stroke side effects have subsided. "I was struggling to acclimate to everything, but I knew that – mentally – if I didn't return to my routine I would end up in a dark place."
She doesn't let this health event define her life. She uses her experience as a ten-year stroke survivor to educate others through the American Heart Association.
"The American Heart Association is dear to my heart. There's a huge stigma that heart disease and stroke only affect older or unhealthy people. That's not true," Quinn said. "I was young and healthy when this happened, and a lot of people have no idea that cardiovascular disease is the number one killer in new moms."
This year, she is the chair of
Rochester's Heart Walk & Run
. She's excited about this event because it's back in person after two years. Now, she gets to share her experience with other supporters and prepare for a cause that reminds her of how far she has come.
---
Share on social media:
About Unum Group
Unum Group (NYSE: UNM), an international provider of workplace benefits and services, has been helping workers and their families for 175 years. Through its Unum and Colonial Life brands, the company offers disability, life, accident, critical illness, dental, vision and stop-loss insurance; leave and absence management support and behavioral health services. In 2022, Unum reported revenues of about $12 billion and paid $8 billion in benefits. The Fortune 500 company is one of the 2023 World's Most Ethical Companies, recognized by Ethisphere®.
Visit the Unum Group newsroom for more information, and connect with us on LinkedIn, Facebook, and Instagram.