For almost three years, my colleague John Luehrs has juggled after-school activities and visiting with his elderly father – sometimes making the tough choice of doing one or the other. He also has a full-time job. Needless to say, he's busy.
Choosing between an adult parent and children's activities is something nearly
47% of American adults
in their 40s and 50s grapple with as a part of the
Sandwich Generation
. These adults, like John, are caught in the middle, caring for an aging parent and raising a young child or financially supporting a grown child. John and his wife, Beth, are a part of that number.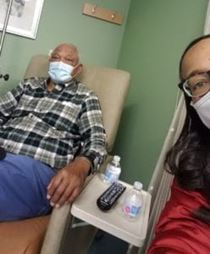 Natalie Godwin and her dad
I know firsthand being my dad's caregiver and favorite "Auntie" to my 6-year-old niece. Like John, we're often pulled in all directions and find ourselves in stressful situations.
"I have learned to live in the moment and not worry about the next thing, otherwise, it would feel overwhelming," John asserts.
Clinton Luehrs, John's dad, anticipates the day ahead as he prepares for John to pick him up. Most of their time together will be spent traveling between doctor's appointments. As a former National Guardsman and accountant, a stroke impaired Clinton's mobility and he needs help to accomplish daily tasks.
For John, balancing family, work, and caregiver responsibilities can be an ongoing challenge. While he finds pleasure at times eating his favorite sandwich – a Cuban – being a part of the sandwich generation sometimes puts a strain on the loving son and doting dad.
On a recent weekday, John started the day with back-to-back meetings, the last one finishing at noon. Eating lunch on the fly, he left (the office or his home office) to pick up his father at the assisted living facility where he lives. The first of two doctor's appointments were at 12:45 p.m.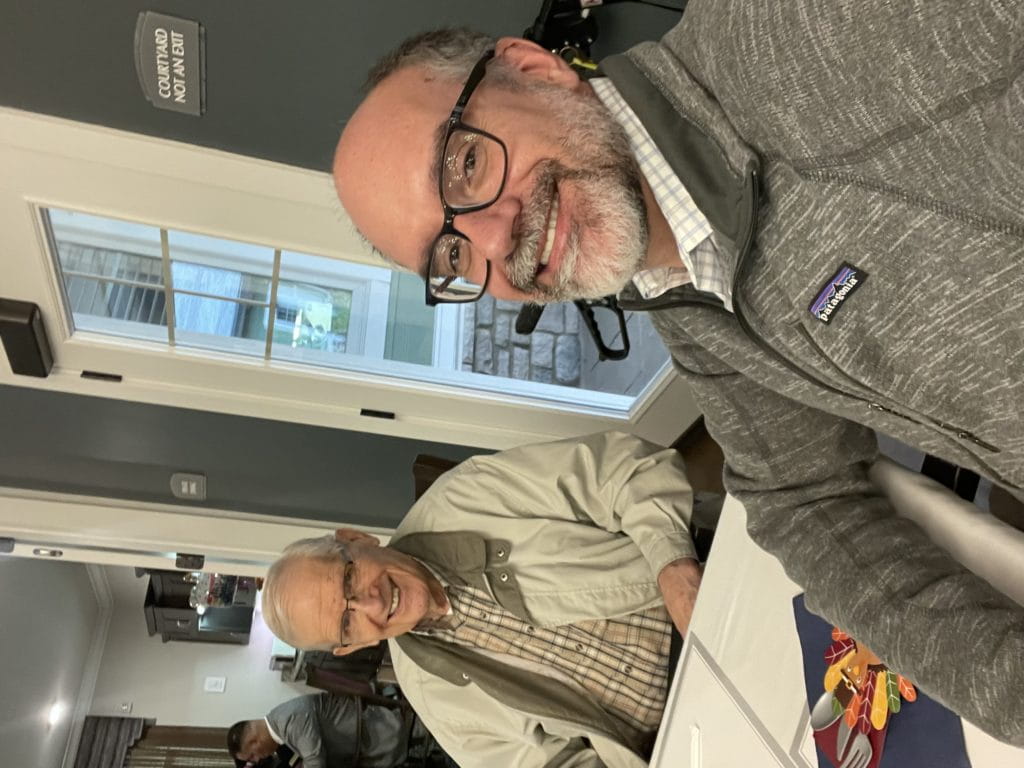 John and Clinton Luehrs
Because his 6-year-old daughter's after-school activities were cancelled, John has a moment to mentally catch his breath and stick around to have dinner with his father. It's an unexpected treat for both of them and allowed John to take care of some of Clinton's bills while there. John worked late the night before on several projects to accommodate the time out-of-office, something he was able to do thanks to the flexibility of our communications team at Unum.
"It's great to have a support system at work and at home," John said. "Regular exercise also helps me stay physically and mentally strong."
Caregivers meet emotional, physical, or financial demands while being present for work. When employees carry the weight of caring for their parents and children, they value employers who demonstrate genuine support.
Here are some tips for HR leaders:
Allow flexible work models
Take a holistic approach to paid leave, considering all the challenges of employee caregivers
Encourage employees to take care of their physical and mental health so they can manage everyday stress
Connect employees with resources or services that will help make their job as a caregiver manageable
For many caregivers there are often not enough hours in the day. Somehow, we make it work.
While I'm not competing in half marathons like John, I am running again. He's planning a family vacation to hike the Grand Canyon on his next birthday. And I can't wait to travel to my favorite city London.
All the support we receive helps us honor our fathers and families. Despite how busy it gets, we wouldn't have it any other way.
---
Share on social media:
About Unum Group
Unum Group (NYSE: UNM), an international provider of workplace benefits and services, has been helping workers and their families for 175 years. Through its Unum and Colonial Life brands, the company offers disability, life, accident, critical illness, dental, vision and stop-loss insurance; leave and absence management support and behavioral health services. In 2022, Unum reported revenues of about $12 billion and paid $8 billion in benefits. The Fortune 500 company is one of the 2023 World's Most Ethical Companies, recognized by Ethisphere®.
Visit the Unum Group newsroom for more information, and connect with us on LinkedIn, Facebook, and Instagram.